Things to Make With MDF Sublimation Board for Gifts
Personalized gifts are perfect to help create a smile that lasts a lifetime, few occasions offer the chance to celebrate and honor a single individual like birthdays, graduates, Easter, wedding anniversary, Christmas, and other special occasions. Sublimation technique makes it possible to personalize your photo, family photo or any of your loved one into a unique keychain, MDF coaster, MDF table mat, clocks or other MDF hardboard gifts in a cheap and easy way, these gifts have their pictures, names or your greeting words written all over them.
Sundaypromotion.com has a large variety of Sublimation blanks wholesale that are good for any gifting occasion. Here we will recommend some of our ready made Blank Sublimation Items, we offer very low MOQ that you can buy a mix of 500pcs of different blank MDF products, and all the products online are free shipping. Our supplies are very suitable for personal gifts retail stores, flower stores, crafts stores or anyone that want to start a small online gifts business.
We have blank MDF coasters that are with sublimation coating on the surface in size 9.5cm and various shapes, you can also make in size 9cm or 10cm, these are the sizes for normal coasters.  All the coasters selling online by default are with cork backing, with anti-slip cork base make the coasters stand tight on even glass table, and also make the MDF coasters looks more expensive as present.
Square and round MDF coasters are the most welcome, heart shape MDF coasters can be made as wedding gifts, start shape or flower shapes is a cute choice for kids.
Make them 4 pieces or 6 pieces packed with box or ribbon to sent out as gifts that will definitely capture memories that will last a lifetime!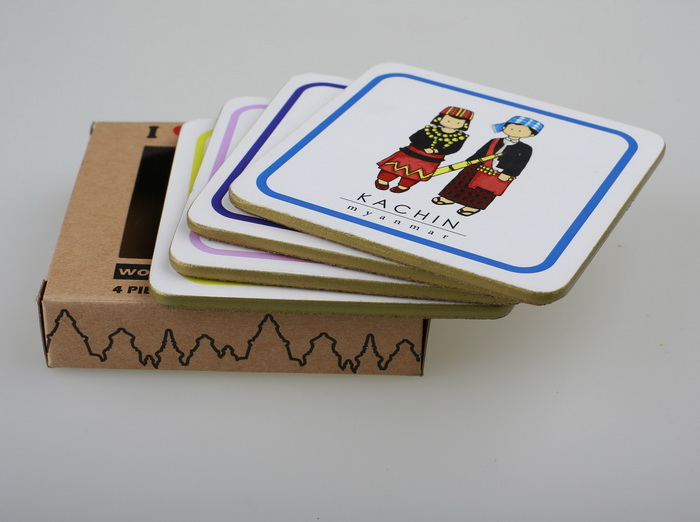 Sublimation Table Mats
Just like sublimation MDF coasters, the sublimation table mats also made by 3mm MDF board and 0.8mm cork back, in size 40*30cm, many buyer make coasters + placemat as a set and pack with box or ribbon, the most common choice is 6 coasters + 6 placemat as a gift set. Pull off the birthday surprise from this personalized MDF coasters and placemats set.
Sublimation photo frames
The photo frame or we call a decorative wood crafts, usually use 5mm or 6mm thick MDF boards, die cut in different shape and size, with stand on the back just like normal photo frame.
Some of our photo frames are really unique shapes and designs provide you not only a simple print but with some inspirations.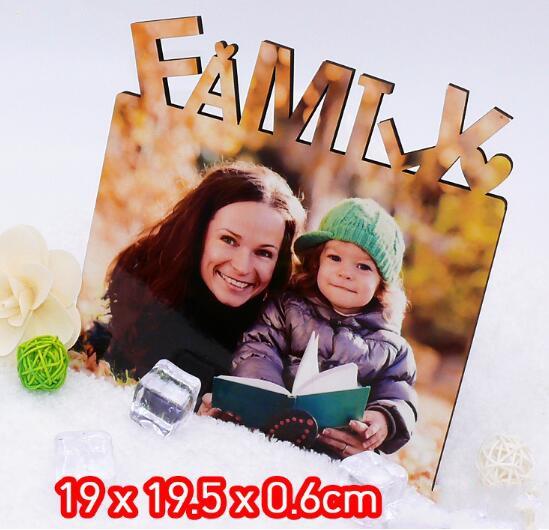 Sublimation Clocks
These clocks are also made by 5mm or 6mm MDF boards, with electrical clock mechanism and a metal stand on the back. We choose the board of that thick is to make sure the board is flat and smooth, no bend in the middle. These clocks are brilliant with photographs and business logos, think of the amount of people that look at a clock for the time, they are fantastic to make as a memorable gifts or advertise your company.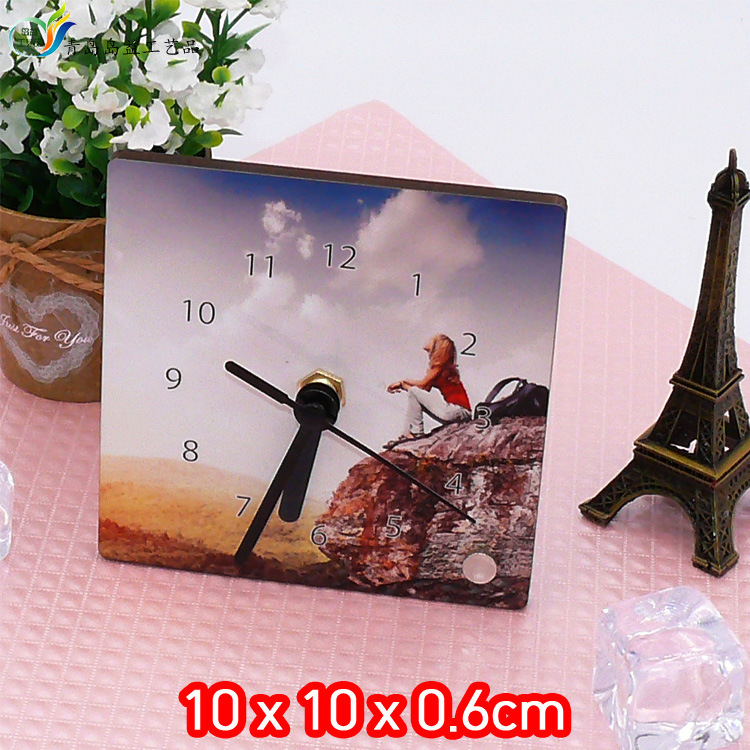 Sublimation keychain
Personalize keychain with photo to give a present with a unique touch, less than $1 of our wholesale sublimation keychains and free shipping, besides coasters, it is the most popular MDF sublimation products on our website. Made by 3mm MDF board, laser cut for a clean precision crafting and detailed shape. Also wholesale at MOQ 500pcs can mix with various shapes, free shipping worldwide.
All of our MDF sublimation blanks are with a thin protective foil on the surface that to protect the sublimation coating, Before applying the printing, just gently remove the protective foil, make sure the surface is clean and smooth, then apply the heat transfer print on the MDF.
Here is some temperature and time tips for heat transfer on our MDF products, please pay attention that this only as a suggestion for MDF product. 180-200 C (that is 340 F on a Fahrenheit sublimation printer) then apply the print for 80-90 seconds, then you will have a nice heat transfer print on the MDF.
If you want to make other custom sublimation MDF blanks, please contact us, we will try our best to meet your requirements.