How to choose fragrance for custom promotional air fresheners
Many of our clients are not in perfume nor in air freshener industry, they just want to buy a ideal promotional gifts to promote their business, they would be a car wash store, a mobile app provider, or a taxi company, so they know very little on perfume, scents type of air freshener products, they would be very lost on how to choose a suitable scent type for their custom promotional air fresheners. According to our experience, most of them just choose scents like Rose, Strawberry, Lemon scents that very frequently chosen by many buyers, and yes, that's very save to use them on your custom car air fresheners.
Choosing a scent for custom car fresheners is not an easy job, as they are so many different types of scents. We list about 20 frequently chosen scents online, but In fact, we have hundreds of different scent types that we have used before. We have 3-4 perfume suppliers that we have been worked with for many years, just take rose scent for example, different factory offers a different smell of rose, and each factory also have around 3-6 different rose smells too. We do not list all the scents we have online as it would make it more difficult for clients to choose, it is said that the more choices we have, the harder to make a decision.
24 Fragrances we list online
Strong scent
Mild scent
Vanilla
New Car
Lavendar
Complex Fruit
Lemon
Banana
Jasmine
Ocean
Strawberry
Coffee
Black Ice
Coconut
Rose
Green Tea
Peach
Orange
Sandalwood
Cool Mint
Forest
Muskiness
Green Apple
Kiwifruit
Cirtus
Lily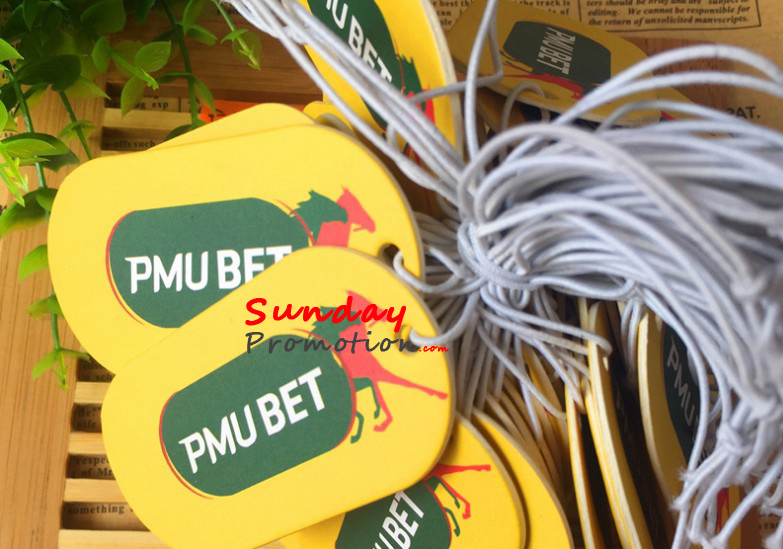 The perfumes we listed online for you are the perfumes we used on our cardboard air freshener for a long time, they are not the best perfume, but they are the most suitable perfume for paper printing type products. Many buyer want to make something special on their custom car air fresheners, they asked us to provide some perfume that we did not list online, we are very open on scent customization, but it might be some trouble to apply this special perfume on cardboard products.
For example, the very popular scent Strawberry, in a perfume factory, they would have around 20 different strawberry scents that sell differently, and made by different ingredients, some made for candles, some made for shampoo, some made for gel air fresheners, some made for foods like icecream, some made for body perfume, how you going to choose? It happens that you just love the one that used on icecream, and it cost twice the perfume we used on paper, shall we used them on our paper type air freshener for you?
Here we would like to give our clients some tips on how to choose a ideal scents for their promotional air fresheners.
I want mild scents
Fruit scents and some flower scents are mild scent that promote fresh, relaxation and balance feeling, like apple, lemon are kids favorite, while rose, jasmine, lily labeled as romantic or feminine. If the products that you want to promote has these kind of characteristic, you may choose these scents to emphasis them. Although they are smooth and delightful to sell, but do remember that mild scent gone the quickest, after a few days of the bag opened, even the paper air freshener still keep the scents on, but just you can hardly to smell them from a distance. We would suggest use mild scent air freshener in wardrobe or inside car.
I want strong scent
Wood scents are the strongest, for example, sandalwood, muskiness, they blends to described as woody or warm, tends to have a deeper, richer smell than other scents. These scents are the most popular among middle east clients, they are strong and can last almost twice the time as some mild scents like jasmine.
The strawberry scent we use has been improved for many times to make it stronger than normal and can last longer, because it is really popular among buyers, now it is also a strong scent in our category.
Lavender is a strong scent too.
I want long lasting scents
Besides the above strong scent we recommended that can last comparatively longer than other scents, some complex scents can also last long.
What is complex scents? Complex scents is a blends of many different kinds of synthetic fragrances, for example, the very typical New Car, complex fruits, black ice, cologne, coffee.
But not all complex scents are strong scent, like ocean breeze is a typical mild and fresh smell, green tea is mild sent too, but they are all complex scents that made by several fragrance compounds.
Can I mix fragrance? Or can I have some special scent type?
We just recommend the complex scents that can last longer time, you may ask can we just blend any of the single scent together to produce a 'new' complex scent to make it last longer? And also we may keep it low cost for promotional use?
Sorry, no, perfume is not only made by scents blends, fragrance compounds, it also made with stabilizers and other ingredients, which are used to fix a scent and ensure that ingredients do not separate, when added to perfumes, it allows for the stability of fragrance ingredients to have a consistent scent and can prevent variation in scent profiles for years. A rough mix would probable make the perfume very unstable in both selling and color.
Some of our perfume factory have scent mix already in their category, like apple-lemon, Coconut-Lemongrass, Gingerbread, Spring, Autumn etc., these are fragrances blends that specially produced to make a unique fragrance, these perfume costs three times or even more than normal perfume, if you do not have tight budgets on your promotional car air freshener, you can choose these scents.
The scent we recommend
For promotional air fresheners, maintain a low cost while keeping the air freshener hanging longer time on your client's car is always the two main concerns. We would suggest you to choose the smell that wildly acceptable to most of the clients, and at the same time, smell can last longer time than the others. For promotional use, Strawberry, new car, ocean, mint, forest, black ice are good enough to choose from.
Recently we developed a black ice fragrance that smells amazing and can last a long time, the most important is, it just the same cost as the normal perfumes! We would say it belongs to the mild scent category, a light, airy fragrance that promote relaxation and freshness. There is no buyer dislike this scents.
But we only apply this special back ice scent for order over 5000pcs fresheners as we do not keep stock right now for small order. For order below 5000pcs, we would still use the normal black ice scent we keep stock all year round.
You might have a picky nose, but as a free giveaway gifts, the target customer that you are giving this air freshener to might not be that picky, just make a cool design and pick one of our recommended scent that is already well selected for you, you will have a very happy customer with your gifts.